Start attracting new customers today
Hundreds of people use the TRADUguide search feature each day to find a suitable translator or interpreter. Make sure they find you!


What is a 123Ad?
123Ads are text-based ads. They appear on the TRADUguide search page or search results page and link to your website. Example: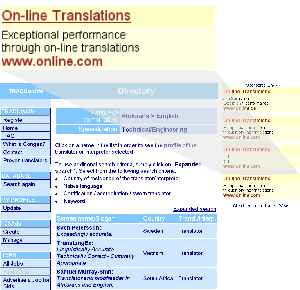 Advantages
Easy-to-build
Affordable
Customer-oriented
Steps to build your 123Ad
Create your 123Ad
You enter the text for your 123Ad directly. You may change the text as often as you like (also after publication).
You enter the address of your website.
Define the exposure of your 123Ad
You choose a 123Ad package to define the exposure of your 123Ad.
You select the language combinations and fields of specialization which determine when your 123Ad will be shown.
Publish your 123Ad
You pay with your credit card using a secure line (PayPal).
Your 123Ad is shown whenever a visitor uses the Search feature to search for the language combinations and fields of specialization you have selected for your 123Ad.
[Compare memberships] [Money back guarantee] [User Agreement] [Privacy]
[Create 123Ads] [Manage 123Ads] [Unsubscribe] [Media Plan] [Media Partners] [About] [Contact]
---
© Copyright 2001-2023 TRADUguide
More Advantages
There is no posting delay. Your 123Ad will appear on TRADUguide immediately after publication, attracting new customers to your site.
Save time when managing your campaign: Change your 123Ad as often as you like during your campaign.